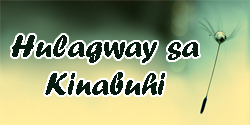 This week's entry is:
People who are relihiyoso or relihiyosa are often submissive to the call of the church and God.. But I believe that sometimes, people who say they are religious are not at all faithful, as they backslide and their trust and confidence in God sometimes withers with every blow of hardships and pain..
But then, who are we to say? I wish to respect every person's relationship with his or her God, or source of eternal spiritual strength.. Faith, after all, does not really talk about specific religions and churches.. It is innate in the person and so, people who always like to interfere with other people's lives should NOT at all find fault if they could not see the person in church or is not a part of their church.. It is NOT always a guarantee that when one goes to church regularly and has been actively participating in church activities, that he or she is all GOOD.. Most times, WAR is waged because of fanaticism and religious discrimination.. Goodness is innate in every man. What makes him bad in the eye of another is the fact that he or she is different, practices a different religion, and have different beliefs.. Ignorance and having a closed minded sense breeds all these negativism..
Subscribe to JUST THE TIP OF AN ICEBERG
Check Related Links: